Mare Island's 360-Degree World Beckons on San Pablo Bay

by Andrew Hidas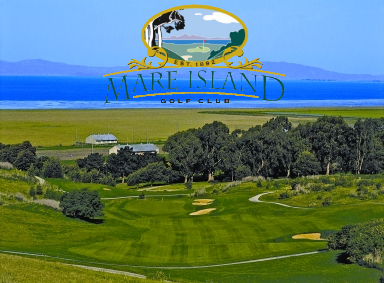 Really, we need at least one more lifetime than is given to us, no? One to explore the wide world beyond our own neighborhoods and comfort zones, to fully absorb the fact that people and places and sights and smells and customs can be very different than our everyday norm—neither better nor worse, but different, with their own integrity.
But then, in an ironic twist that leaves us half laughing and half dismayed, we need another lifetime to truly come to know all the places we've neglected to get to in our own neighborhoods and comfort zones (or got to only once when our relatives came to town and they longed to see some wonderful place we were embarrassed to admit we'd never gone to ourselves).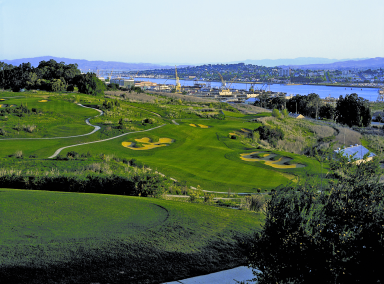 In other words, how many times have you hiked Point Reyes? Or been to the top of Coit Tower? Or paddled the Russian River? Or more to the point of our discussion here: beheld the wonders of Mare Island Golf Club? If the answer to that is "not yet," may I gently suggest you quit stalling in the hope that science comes up with a magical pill guaranteeing a second life? Instead, venture out to this Bay Area treasure so you can sooner rather than later utter that well-known, inevitable phrase, "I can't believe I've never been here before."
Location is everything in real estate, and there is no location quite like this island that affords 360-degree views of San Pablo Bay and the hills, mountains, rivers, wildlife refuges and bridges that frame it.
"You drive out here and it can feel like the middle of nowhere, then the road just ends and you turn and look around and say, 'Whoa! Where has this place been all my life?'" muses General Manager Matt Sullivan, who came over from Roddy Ranch in 2006.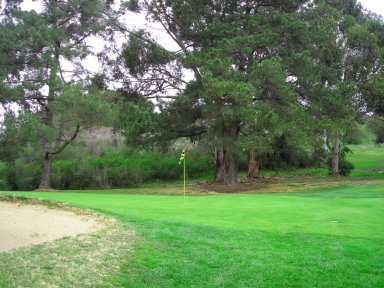 Sullivan is in the habit of soothing slightly anguished first-timers who bemoan what they've been missing, but then make it up to themselves by becoming regulars at this warm and casual 4-season course whose tree-lined front nine dates to 1892 and thus qualifies as the oldest course west of the Mississippi River.
The back nine involved some rerouting and additions by renowned architect Robin Nelson in 2000, resulting in a distinctly links-style overlay that further guaranteed a varied course that will absolutely demand you play every club in your bag.
Mare Island's par-70 layout gives a hint of some challenge when you observe that its course record is 68. Such a narrow span between par and best-ever means there will be no burning through holes while tightly holding on to your driver here. Skillful shotmaking requirements come into play pretty much from start to finish when you're not ogling the gorgeous vistas.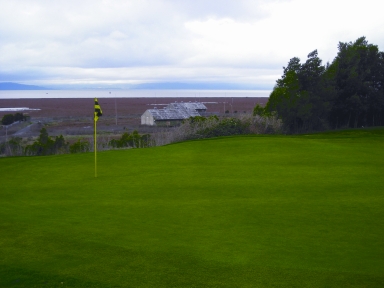 No. 3 exemplifies the challenge you face here. It's just 195 yards from tee to cup, but you can't see most of the green when you set up, and trouble both left and right means you'll have to be straight and true (and hopeful). Just finding your ball can be a consolation prize when you don't make its challenging par-3.
No. 7 picks up the challenge theme with a 388-yard beauty flanked in back by one of the course's few water features. A false front just waits to roll your ball right back if you don't park it deftly on top. You may not have to be perfect here, but "almost perfect" really helps. What also helps is its designation as the No. 1 handicap hole.
No. 13 boasts the highest point on the course, and just like the highest anything, it tends to draw the most acclaim. (For good reason, though, on a course with neighbors as appealing as bays and mountains tend to be.) This par-4 plays straight downhill for all of its 377 yards, offering 360-degree views of the bay and its bridges, the Napa River, and beyond. You can't have a pulse and fail to get swept up by the sheer pizzazz of this setting.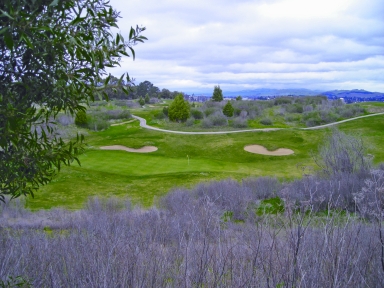 The finishing hole at No. 18 requires a good long drive to make a decent inroad into its 429 yards. The fact that it plays gradually uphill to a small green means you're right to be satisfied making a par-4 to finish off your round.
Sustained efforts in the past year to improve turf conditions and refurbish the clubhouse means superior shotmaking and drainage on the course and a more pleasing clubhouse experience after your round. Mare Island suffers minimal closures and next-to-no restrictions on cart access.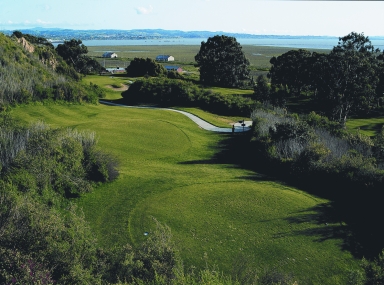 Mare Island used to be military play only, but today most players are civilians. With the least bit of planning, civilians can score a tee time to suit their needs.
Besides which, this renovation was comprehensive, with the year offline allowing an array of improvements beyond course redesign. A brand new irrigation and drainage system greatly enhances playability. Practice facility and driving range improvements make it easier to keep on your game off the course. And when play is done, golfers can relax in the newly renovated bar and dining area of the clubhouse (replete with five new flat-screen televisions) or sit on the patio and enjoy the scenic view of the new Mare Island. It's the crowning touch to an enjoyable round of golf in this hallowed mecca of the golfing world.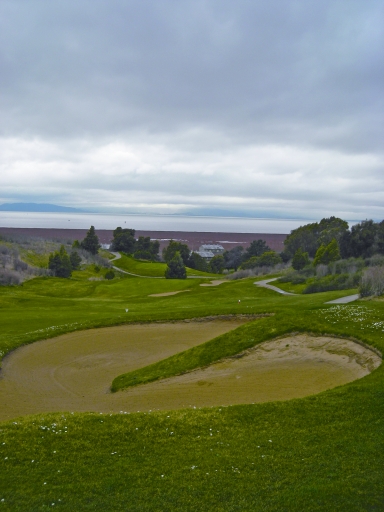 Rates are modest at $30 weekdays, another $14 for a cart, with senior and youth discounts dropping prices even further. A $29 player's card buys you discounts all year long, and a $99 monthly option pays for itself in a few rounds a month.
Mare Island's storied history includes, among many tidbits, the tragic news of Pearl Harbor being relayed first to the Naval Communications Center that later became the clubhouse. Against that backdrop, the opportunity to breathe deeply and exult under the wide open skies of this island golf venue is one you'll be wise to take advantage of—in this very lifetime.